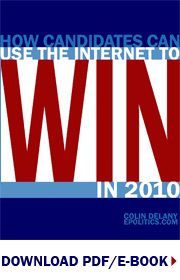 Part Two of How Candidates Can Use the Internet to Win in 2010
Using the internet for politics may seem new, but most online campaigning at some level just reincarnates classic political acts in digital form. For instance, you can think of a website as the electronic version of a storefront office, while the process of working with bloggers is a lot like old-school print or broadcast media relations.
But compared with traditional political tools, the internet truly excels at maintaining relationships with many people at once. Channels like Facebook, Twitter, YouTube and email connect campaigns directly with their donors and volunteers, providing easy paths to distribute news, messaging points, event invitations and appeals for time and money. With planning and effort, the connection can go both ways, letting a campaign actively tap the social connections and even the creativity of its supporters.
9 comments September 28th, 2009 Trackback Bookmark on del.icio.us