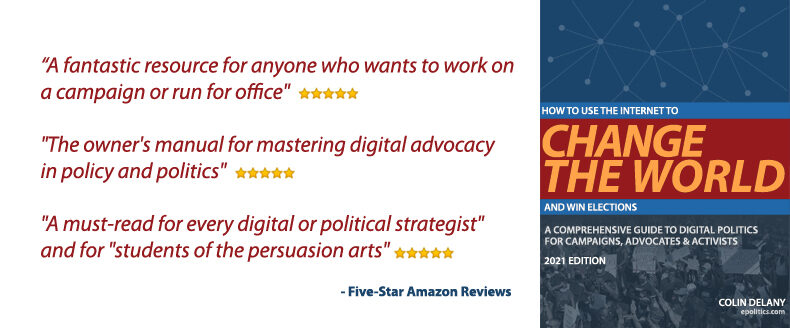 How to Use the Internet to Change the World – and Win Elections [Ebook]
The Definitive & Unrivaled Guide to Digital Politics, 2022 Edition
Ten years in the making, the 2022 edition covers the latest digital tools, technologies and tactics used by cutting-edge campaigns, activists and advocates every day.
Designed for activists, journalists and students as well as political professionals, this ebook provides by far the most comprehensive and practical guide to using the internet for politics and advocacy available today. This edition includes lessons from the 2020 and 2021 U.S. campaign cycles, from America's racial-justice protests and much more. More about the book, including a list of chapters.
Buy Now!
Buy the PDF Version
You can pay with PayPal or credit card (credit cards processed via PayPal, which you can use without a PayPal account via the "GUEST" option)
You'll be able to download the book immediately
If you buy the book once, you'll be able to download subsequent editions without charge (you'll receive a discount code via email each time a new edition is ready)
Please order through the form below:
Minimum payment is $5.99 USD for a single copy/single user.
If you have a discount code, you'll be prompted to enter it during the ordering process
Thank you! If you have questions, or you absolutely cannot afford $5.99 USD, please contact Colin Delany.
More About "How to Use the Internet to Win Change the World – and Win Elections"
"How to Use the Internet to Win Change the World – and Win Elections" is a comprehensive guide to effective online political campaigning and advocacy. This new 2021 edition is expanded, rewritten and reorganized to highlight the latest developments in the tools and tactics of online politics.
Incorporating important lessons from recent elections and political activism in the U.S. and around the world, this book is essential for anyone running for office or trying to influence public opinion and public policy in 2021. It's also extremely useful for individual activists, nonprofit political advocates, academic researchers, students and journalists. It's the most comprehensive guide to digital campaigning available and a must-read for anyone interested in understanding how modern politics is done.
Chapters include:
The Internet: What's It Good For?
Big Digital Politics Trends to Watch in 2022 and Beyond
Campaigning in a Pandemic
Planning Your Online Campaign
Essential Tools and Infrastructure: Creating a Basic Online Campaign
Preparing an Outreach Outreach Strategy
Online Advertising
Social Media
Facebook
Twitter
Grassroots and Field Organizing
Mobilization and GOTV
Online Fundraising
Data and Analytics
Logistics, Budget and Staffing
A Sample Online Campaign Plan
About the Author
"How to Use the Internet to Change the World — and Win Elections" is written by Colin Delany, a twenty-five-year veteran of internet politics and advocacy, a sought-after consultant and speaker, the founder of Epolitics.com and a columnist for "Campaigns & Elections". As a consultant, he has worked with scores of nonprofit groups, candidates and companies to help them achieve their advocacy, electoral and communications goals using digital tools. This e-book reflects his own years of experience as well as lessons learned from campaigns and advocacy organizations across the political spectrum.
Delany's previous e-books, "Learning from Obama" — the definitive guide to Barack Obama's 2008 online campaign — and "Online Politics 101" have together been downloaded thousands of times from Epolitics.com. The site itself was named "Best Blog – National Politics" at the 2007 Politics Online Conference and received a "Victory Award" as "Blog of the Year (non-Spanish-language)" at the 2012 Poli Conference. Besides being honored as one of the "Ten Who Are Changing the World of Internet Politics" at the 2010 World E-Gov Forum in Paris, Delany has spoken at venues ranging from Harvard University and the London School of Economics to the South By Southwest Interactive conference.