Sandi Fox is a past Epolitics.com contributor, a mobile-advocacy expert and the proprietor of Smart As A Fox, a consulting shop for progressive digital advocacy and politics. This post first appeared on the Smart As A Fox blog.
Warning: Don't Send Broadcast SMS from a Long Code.
Note: This blog post ONLY applies to broadcast SMS or Application-to-Person text messaging. It does not apply to peer-to-peer or one-on-one SMS.
I've lost track of the number of times I've had to tell someone that sending broadcast text messages from a long code (ie. regular phone number) is a big no-no.
Before we get into that issue, though, let's start with some basic definitions you should be familiar with when it comes to mobile messaging.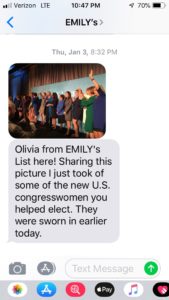 SMS: Short Message Service (text only)
MMS: Multimedia Message Service (images and gifs)
Shortcode: 5-6 digit number used to send broadcast SMS/MMS text messages
Long code: 10 digit phone number, primarily used for peer-to-peer texting
Broadcast Texting: Using an application to send multiple text messages out at once.
Peer-to-Peer Texting: Using an application to send one-on-one text messages.
Now, these definitions have been simplified for you to get the basic idea. But, I definitely suggest you read my blog post the covers the differences between Peer-to-Peer vs. Broadcast text messaging and the best use cases for both.
Ok, now let's get started.
First, why do we use shortcodes?
There is a VERY good reason most reputable broadcast texting platforms send messages from a SHORTCODE. Shortcodes are approved by all the phone carriers (ie. Verizon, TMobile, Sprint, AT&T, et al.) for broadcast texting, meaning an application or platform sending one message out to multiple mobile numbers at once. Shortcodes can be more expensive, which is why many platforms like Smart As A Fox Mobile Messaging offer shared shortcodes, which allows several organizations to share the overhead costs making it more affordable. But you can have your own dedicated shortcode if you would like. Long codes are cheaper $10-25 to purchase vs. $500-1000/mo for a dedicated or vanity shortcode, which is why pricing is cheaper for vendors who use long codes.
Now let's cover why you should NOT be paying a vendor to send broadcast SMS texts messages via a long code (even if it costs less).
Long codes are not approved for Broadcast SMS
Long codes or regular phone numbers are not approved by phone carriers for broadcast text messaging (SMS/MMS), and carriers can detect when an application or platform (A2P) is sending multiple messages at once — often marking them as spam. Carriers are cracking down on what they consider SPAM text messages to prevent their customers from getting unsolicited texts. Peer-to-Peer texting platforms function in a gray area here because, despite messages being sent from an application, one person is still pressing "send" on each text message.
Here is a recent statement from Derek Johnson the CEO of Tatango a major texting provider on this issue:
The wireless carriers currently do not allow A2P (Application to Person) traffic to run on 10DLC (Long codes) numbers. I know this is confusing for many of you reading this, as many of you are right now running A2P traffic on 10DLC numbers. Well, you shouldn't be, you should have never been, and the wireless carriers are finally taking action to curb this abuse of their networks.
Russian Roulette
Mobile vendors that allow you to send broadcast text messages from a long code are figuratively playing Russian Roulette with your list. As we already established earlier, mobile phone carriers are cracking down on what they categorize as SPAM text messages. Similar to an email spam filter sometimes messages make it through and sometimes the don't. Maybe your messages go through to all your subscribers on Gmail, but they are blocked by Outlook. So for mobile, you might send a message out to 1,000 people on your list and Verizon might block it, but AT&T might have let it through. But, the next time everyone blocks it as spam.
The difference though with email vs. mobile is that for email we can get deliverability reports and see which email messages are not getting through and marked as spam. If you send SMS from a shortcode, the platform you use to send the messages should also provide a deliverability report. But when text messaging from a long code there is no way to tell unless you call to ask all your subscribers to see if you get the messages.
A colleague of mine at an organization that does street canvassing for major non-profits and campaigns recently learned about this fact. They were informed by the donor management system they use that a text messaging functionality had been added to the platform. Unfortunately, it was via a long code. They decided to test it out before putting it into use (SMART move!). A broadcast text was sent to 8 staff members. Only 4 actually received the text message.
Brand
A lot of vendors think they are able to skirt spam filters by breaking up your list and sending SMS messages from multiple long codes. As you can tell from the example provided above it doesn't matter how many people the message is being sent to. You could be sending a message to 8 or 50,000 people and phone carriers could still block it.
Vendors still think breaking up your list will help, but by doing this they are also hurting your brand identity. Every time one of your subscribers receives a text message from you they'll be getting it from a different number. With a shortcode, they'll always get messages from you at the same number.
Legal Compliance
Another piece to this is legal compliance. Broadcast text messaging programs require clear opt-ins. All the ways to opt-in to a mobile program require legal language be included in both the "Call-to-Action (CTA)" and the first text message your mobile subscriber receives. Opt-ins usually are via a web form or keyword (ie. Text SMART to 97779) in print or spoken.
The legal compliance language is:
Text STOP to quit. HELP for info. Standard data and text message rates may apply.
When subscribers opt-in to your mobile program, the number they receive SMS messages from must be consistent. If the number they receive that first opt-in SMS from changes, you must send another welcome text from the new number that includes all the legal language once again. So if you are sending messages from a different long code every time, you are not following the law.
Many of the vendors who offer broadcast SMS via their platforms do not make the opt-in requirements clear to customers, leaving them open to being audited and fined by the FCC.
SPAM Text Messaging Fees
Some of you may have recently seen articles about a text messaging provider called Remind.com, which allows teachers and school districts to use SMS to communicate with students via long codes. Verizon is implementing a new fee on platforms it believes are used by spammers to bombard users with indiscriminate texts. This fee is $0.0025/message sent, which is the same fee currently applied to shortcode messages, which are called "Carrier Fees." These fees are often passed along to the customer. Remind was one of those platfoms that got hit with the new "SPAM fee" but since the only people that use it's platform are educators and students it was able to fight with Verizon both behind closed doors and in the court of public opinion. Other platforms, on the other hand, will ultimately need to incorporate this fee into their pricing for broadcast and peer-to-peer texting.
You might be thinking that's such a low amount. No big deal, right? For someone sending a small volume of messages, this will most likely not affect you as much. If you're sending a large volume of messages, this will definitely affect you. For example, the service Remind.com sends about 1.6 billion SMS to Verizon customers each year. That means Remind.com would pay an additional $4,000,000 a year in fees just to Verizon, which is on top of the fees they already pay their SMS aggregator Twilio. For Remind, that would be a 1,111% increase in messaging costs for Remind.com after the Verizon termination fee is added on. Plus, other mobile phone carriers are likely to follow and charge fees of their own.
According to Derek Johnson at Tatango, "There is industry consensus that all the other U.S. wireless carriers will follow Verizon's lead, and that all A2P 10DLC (Application to Person Long code text) traffic will have an SMS termination fee by the end of the year. It's also industry consensus that these termination fees will most likely match the termination fees already charged for SMS messages on shortcodes."
Why are phone carriers cracking down more on blocking texts and adding additional fees?
Late last year, the FCC released a new ruling that classified SMS messages as "Title I information service" under the Telecom Act, which essentially granted wireless companies more power with how they handle text messages. Many continue to fight this and warned that this new classification would make it possible for the service providers to censor text content. Companies like Twilio–which offers internet-based telephone services–continue to fear that this move would make it possible for large mobile carriers like Verizon to block users from receiving texts on the platform. Broadcast SMS from a long codes are the messages are more and more likely to get blocked.
This FCC ruling does also effect platforms that send broadcast SMS from shortcodes as well, but it should not impact those platforms whose primary customers are nonprofit or government entities, as well as political campaigns.
Does your broadcast text messaging platform send from a shortcode or long code?
This list is not complete but should cover several of the vendors and platforms I know many nonprofit, labor and political organizations have used in the past. Keep in mind of course that not all texting platforms offer the same level of functionality. Those priced higher usually offer much more functionality, so be sure to ask what you get with your monthly or annual subscription to their platform.
Default: Send from a shared shortcode:
Upland Mobile Messaging (ie. Mobile Commons)
Smart As A Fox Mobile Messaging
Revere Mobile Messaging
Phone2Action
EZText
Simple Texting
Default: Send from a long code:
Call Hub (though you can pay $3,000 for 3 months of shortcode use)
Strive Digital
Some CRMs or Donor Management Systems that are now offering Text Messaging (SMS) functionality
And of course. Make sure when you are looking at platforms that offer text messaging to ALWAYS ASK if they send messages via a shortcode or long code.