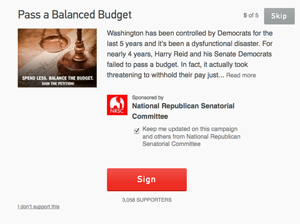 TWO separate little birds chose to fly through the ventilation slits in the e.politics bunker this morning, both bearing the following information: Change.org is officially helping Republicans recruit new grassroots supporters and donors, in this case the National Republican Senatorial Committee. Astute observers of the digital political world will remember the furor over Change's pivot a year ago toward working with groups across the political spectrum (rather than just liberal/progressive or politically neutral campaigns), and here we see the new strategy in action.
Of course, Change.org is also working with Democrats, as you can see from a list of petitions they've run on behalf of the DSCC. But plenty of Lefties aren't going to be happy with this development, and not just for tribal reasons. Here's the thing: when you run a petition on Change.org (or on its primary competitor, Care2), you help the company engage and grow its overall list (each petition is a recruiting opportunity for the site). If Change is working with Republicans, liberal groups could easily decide that their Change.org petitions are in effect be helping their rivals by stocking the pond.
Good fun all around — I bet this one's going to stir up some conversation. And remember that article a while back about the lack of a conservative equivalent to Care2 and Change? Might be time for an update.
– cpd