Like why it's been so quiet on this site the past few days — as the note and flyer below (washed ashore yesterday in a bottle) suggest, other side projects are afoot, much to DC's ultimate chagrin, embarrassment and that awkward next-day phone call….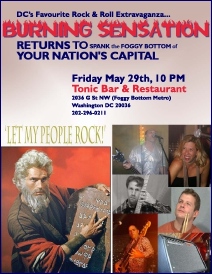 First war and economic disruption, then plague, and now it has come to this: after a year-and-a-half in remission, Burning Sensation has returned to smite the unwary of DC and its surroundings with the Swift Sword of Rock and Roll justice.
Yes, the region's favourite purveyor of kick@ss "musical" extravaganza is coming to Tonic in Foggy Bottom on May 29th, fully prepared to Shock and Awe with an array of tunes and stage antics guaranteed to Blow Your Pants Clean Off and blast your soul clear of warts, blemishes, stains, rashes and any irregularities remaining from that unfortunate incident with the…well, never mind.
Don't take it from me, though: check out this trustworthy flyer, which you should immediately print and post on every available surface at your abode, hangout, haunt or place of employment.
More details to follow…
– cpd