Hey kids, it may look like we've been on vacation the past few days, but in reality it's been non-stop action down here in the e.politics bunker. A client site is due tomorrow, and the process of getting that sucker built and running has provided painfully clear evidence that whoever invented computer technology had a cocktail of cruelty, evil and sadism instead of a heart, and dined regularly on rusted iron and broken glass.
And not even the Daily Show to keep us distracted — those lucky bastards took two full weeks off around the 4th of July holiday. Never fear: escape is close at hand, since the Daily Show site now hosts full episodes. And you have a good excuse to go, since the June 24th show featured a double-shot of online politics. The excitement starts around minute 8:40 with a look at John McCain's online game Pork Invaders, and quickly moves on to some online gaming options the candidates haven't taken, namely Fetus Pong and The Obama Universal Heath Care game, Yes We Cannon (see Jon running up the score below).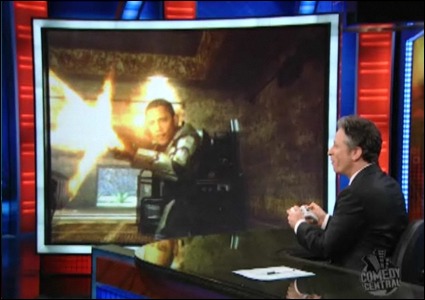 After the first commercial break, it's time to deconstruct a new TV ad funded by our friends at MoveOn.org — or as Jon says, "brought to you by MoveOn.org — ten years of making even people who agree with you cringe." Other highlights: a bizarre campaign ad for Texas Senator "Big" John Cornyn that's perhaps a bit more Brokeback Mountain than intended, and a video tour of the Straight Talk Express (22-inch rims? Dayum!). Check it out.
– cpd