Updated January, 2011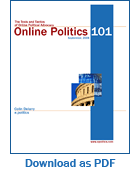 RSS (Really Simple Syndication or Rich Site Syndication) is an easy way to keep your readers abreast of updates to your site content. At their simplest and most common, RSS feeds send subscribers the title and a brief blurb about each new article or post on a given site or blog, along with a link to the post. Users can subscribe directly to feeds from sites they read regularly, though feed aggregators such as Google Reader and MyYahoo also collect feeds in searchable form.
Over the last few years, most major media outlets have implemented RSS to allow their readers to keep up with site changes as they happen. RSS feeds are built into most blogging software and are so common in the blogosphere that they are becoming critical to a site's credibility among bloggers as an information source.
Though the name "feed" implies that RSS is something that you send out to subscribers, your RSS feed is really just a simple XML file that lives on your site and that you either update by hand (not common any more) or is generated automatically by your site's content management system. When people subscribe to a feed, they've really just set up their RSS-reading program or site to automatically reqest the feed's XML file at a regular interval and display the contents.
For political campaigns, RSS should be a no-brainer. It's extremely easy to set up and to maintain, and it's a great way for you to keep in regular contact with your more tech-savvy readers. Also, as RSS aggregators become more common, many people are reading the contents of RSS feeds without even knowing it, since the news pages they're browsing are collecting and displaying the contents of feeds from many sites.
If you do podcasts, RSS feeds alert subscribers and aggregators every time you post a new installation (the "cast" part of the word "podcast" derives in part from the way RSS lets you mimic the "content push" model of traditional broadcast media).
A couple of quick things to keep in mind:
Particularly if you update your RSS feed by hand, always run it through a feed validating site after you change it. Tiny flaws can crash your whole feed.
Also when you make an update, use a pinging service to alert feed aggregators of the change, a feature built into most blog platforms by default
In the same way you submit your site to search engines and directories, submit your feed to feed aggregator sites — you can find them via a Google search.