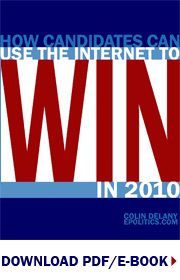 Part Three of How Candidates Can Use the Internet to Win in 2010
Once a campaign has the basic technology in place, it can begin to take full advantage of the internet's ability to deliver donors, volunteers and voters. Much of a campaign's online outreach will take place in the very public venues of blogs, Facebook, YouTube, MySpace and Twitter, but politicians and staff can also reach out behind the scenes, for instance sending emails or Facebook messages to selected bloggers, Twitterers and activists, usually in the hope of creating connections that will lead to more public affirmations of support. Campaigns can target online advertising with a different kind of precision, reaching people with appeals and messages that match the content they're reading or the keywords they enter into a search engine.
The variety of outreach outlets available to online communicators can be overwhelming, so let's start with a few basic principles to help sort out the options.
4 comments October 5th, 2009 Trackback Bookmark on del.icio.us