Update: Check the comments for an interesting conversation breaking out.
Guest article! The latest from our old friend Beth Becker, who's seized with excitement over Pinterest, the latest shiny object potentially useful item in our ever-growing social media toolkit. Also, check out Beth's previous work on Epolitics.com.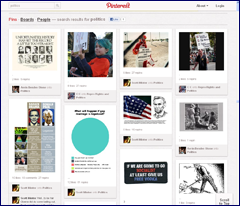 Pinterest for Politics: Not Just a Shiny New Toy
By Beth Becker
It's all about the visual now: from Twitter's embedding of photos and video to the new Facebook timelines for both profiles and pages, the online world is buzzing with the power of a photo.
If you've been paying any attention at all over the last few weeks, social media fans everywhere are raving about Pinterest, the newest platform that's still in limited beta. But what is it? And, what are its implications for an organization in the political space? (The answer to the latter: endless.)
What is Pinterest? How does it work?
18 comments February 23rd, 2012 Trackback Bookmark on del.icio.us