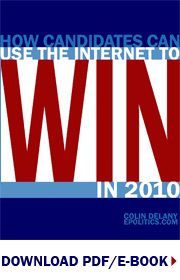 Part Four of How Candidates Can Use the Internet to Win in 2010
What Dean and Kerry suggested in 2004, Barack Obama proved in 2008: an army of motivated online donor/volunteers can be a truly decisive force in politics. And with software designed to allow campaigns to tap the enthusiasm (and the wallets) of supporters both within their districts and around the country now widely available (see Chapter Two), 2010 should see an explosion of online fundraising at the state and local levels.
A campaign benefits immensely if most individual donations, even the big ones, come in online rather than as paper checks. First, money collected via credit cards is available instantly, allowing a candidate to take immediate advantage of an overnight surge of income. Plus, online donation details automatically end up in a database, simplifying accounting and reporting. By contrast, physical checks present a logistical burden, since each has to be processed individually whether it's collected at a fundraising dinner or arrives in the mail.
4 comments December 3rd, 2009 Trackback Bookmark on del.icio.us