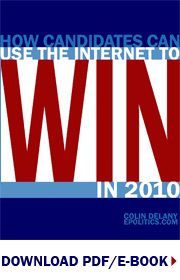 Part One of a series
Barack Obama won't be on the ballot in November of 2010, but thousands of other candidates will — and he'll be very much on their minds. His public image will shape the American political environment, of course, but plenty of politicians and political professionals on all sides will also look to his ground-breaking online campaign as an inspiration, seeking to replicate his success at using the internet to raise money, find supporters and put people to work in the real world.
But running for state legislature, a congressional seat, a governorship or even the U.S. Senate is different than running for president, and relatively few down-ballot candidates have done much more than dip their toes in the digital waters so far. That's likely to change soon: despite the vast gap between a national race and one for dog-catcher, many of the same online political rules apply and most of the same technologies are available. Here's why state- and local-level campaigns should pay attention to the potential of internet-based politics in 2010.
4 comments September 21st, 2009 Trackback Bookmark on del.icio.us