How to Use the Internet to Win in 2014: A Comprehensive Guide to Online Politics for Campaigns and Advocates [EBook]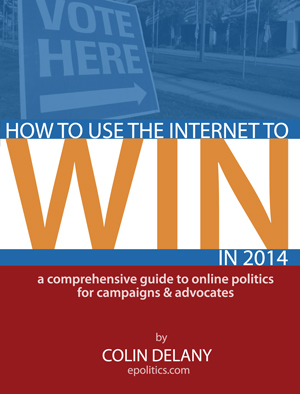 Buy on Amazon for Kindle
How to Use the Internet to Win in 2014 is available on Amazon.com as an ebook. This version is optimized for Kindle.
Download PDF Version
You can also receive a custom-generated link to download a PDF copy of "How to Use the Internet to Win in 2014." This document is not free, however — please use the Pay What You Like/Pay Your Way feature to help offset the time, experience and energy that went into creating it. Your email address will be used ONLY for this transaction, and payment is processed by PayPal (credit cards accepted, PayPal preferred). If you encounter any problems, please email cpd@epolitics.com.
Note, you CAN enter "0" as the amount you want to pay and still download the file, but that wouldn't be cool, would it — unless you're a student or are really, really short on cash. Thanks!
Pay What You Like
[Enter $$ Amount in place of "USD"]
Note: you'll have a chance to review your donation before final approval.

New version 2.0 now available!
Version 2.0 updated in April of 2014, with new or expanded sections on Facebook advertising, Twitter advertising, mobile advertising, political data analysis, Facebook content strategy, grassroots mobile technology and much more. Available in the Amazon store in Kindle ebook format or as a PDF (see below).
THE Comprehensive Guide to Digital Politics for Campaigns and Advocates
The How to Use the Internet to Win in 2014 ebook is THE comprehensive guide to effective online political campaigning and advocacy. Its focus is practical, concentrating on using today's digital tools to elect candidates and move issues in tough political fights. Buy it for Kindle in the Amazon store today!
Or, use the link below to get a name-your-price PDF version.
Though inspired by earlier guides written in 2010 and 2012, this new edition is expanded, rewritten and completely reorganized to highlight the latest developments in the tools and tactics of online politics.
Incorporating important lessons from the 2012 and 2013 U.S. elections, it's essential for anyone running for office in 2014. The book is also extremely useful for individual activists, nonprofit political advocates and journalists covering political campaigns.
Chapters include:
The Internet: What's It Good For?
Essential Tools and Infrastructure: Creating a Basic Online Campaign
Preparing an Outreach Outreach Strategy
Social Media
Online Advertising
Grassroots and Field Organizing
Mobilization and GOTV
Online Fundraising
Data and Analytics
Logistics, Budget and Staffing
A Sample Campaign Plan
How to Use the Internet to Win in 2014 is written by Colin Delany, Epolitics.com founder/editor and a seventeen-year veteran of internet politics and advocacy. He is also a sought-after speaker and trainer and a columnist for "Campaigns & Elections" magazine. As a consultant, he has worked with dozens of nonprofit groups, candidates and companies to help them achieve their advocacy, electoral and communications goals using digital tools. This e-book reflects his own years of experience as well as lessons learned from campaigns across the political spectrum.
Delany's previous e-books, Learning from Obama — the definitive guide to Barack Obama's 2008 online campaign — and Online Politics 101 have together been downloaded tens of thousands of times from Epolitics.com. The site itself was named "Best Blog – National Politics" at the 2007 Politics Online Conference and received a "Victory Award" as "Best Blog (non-Spanish-language)" at the 2012 Poli Conference.
Besides being honored as one of the "Ten Who Are Changing the World of Internet Politics" at the 2010 World E-Gov Forum in Paris, Delany has spoken at venues ranging from Harvard University and the London School of Economics to the South By Southwest Interactive conference.