New guest author! Jon Wheeler is an old friend who's recently relocated below the equator and sends this update on how online tools are playing out in a very different political environment than we're used to in the States.
The Internet and the Argentine Elections: The View From (Way) Down South
By Jon Wheeler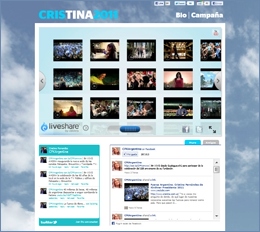 Six months ago my wife and I left our home and jobs in Washington, DC and headed off for a extended sojourn in the land of meat, malbec, mate (and her birth) — Argentina. Turned out to be fascinating timing for a political junkie like myself, as 2011 is a major election year in Argentina, culminating this Sunday with the national presidential election.
Perhaps not as exciting as it could have been, though. By all accounts, the incumbent, Cristina Fernández de Kirchner (or just Cristina, as she is either affectionately or dismissively called by her supporters or foes) is expected to win either outright on Sunday or a few weeks later in an unlikely run-off election. Still though, there have been some intriguing characteristics of this election — especially the use of the Web and social media in the campaign — that I thought Epolitics.com readers would find interesting.
5 comments October 21st, 2011 Trackback Bookmark on del.icio.us