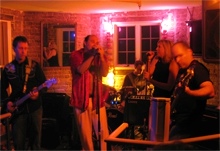 Pull out your earbuds and listen, DC — that distant rumble you hear is the sound of Rock and Roll, still echoing around Foggy Bottom and its environs after Friday night's Burning Sensation show. Only one thing could put out a fire like that one: a flood of booze…which in turn washed up one very happy group of Tonic bartenders (sample quote — "you and your friends can come back ANY time you want").
Thanks to all 120 people(!) who made it, and if you were somehow tied to a chair and unable to come, here are a few shots to show you what you missed (try the Picasa version if you're anti-Facebook). Note in particular the massive black-lighting in the second set, washed out alas by the camera flash. Mmmmm, black light — feel those retinas smolder.
So, when will your next chance come to Feel The Burn? Only DC's show-bookers know….
– cpd