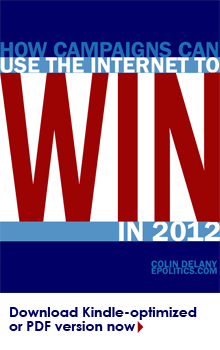 Chapter One of How Campaigns Can Use the Internet to Win in 2012
Hell of a political year, eh? The president, 33 Senators, all 435 House members, scores of statewide officeholders and thousands of state legislators, mayors, city councilmembers, etc, all up for election. The presidential race will dominate the year, of course, and many congressional, state and local races will turn on the outcome of the battle between President Obama and the Republican nominee in the Fall.
Still, plenty of elections will buck the national trends, hinging on local issues and local personalities. Plus we'll have the primaries, which for many offices are the only elections that matter. Fifteen years ago, the upcoming campaigns would have been dominated by TV ads to the exclusion of most other political tools, but this is 2012 and the world has changed. From Egypt to Wisconsin, the internet has become a key political battleground, and smart campaigns at all levels — presidential to dog-catcher — will be thinking about how to integrate digital tools into essentially all aspects of their operations.
Here are some of the most important ares to consider:
Add comment April 4th, 2012 Trackback Bookmark on del.icio.us