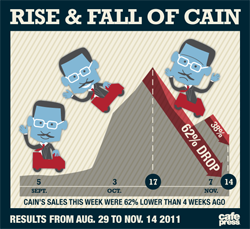 Hi folks, it's getting late on a Sunday and I'm coming down from the high of seeing a super-fun band with great stage presence and mad musicianship last night — Super Diamond, the finest Neil Diamond cover band that could possibly be imagined. But now it's time to confront some hard truths, starting with an understandable one. Guess what: people have stopped buying Herman Cain gear, at least on popular merchandise self-serve website CafePress. According to a CafePress rep,
Herman Cain-tagged merchandise sales nosedived by 62% since October 17, with Cain-related products falling a dramatic 38% since last week.
Meanwhile, for the first time during this campaign, Newt Gingrich-tagged merchandise sales on CafePress have risen two points, from 4% to 6%.
Makes sense — Cain is beset by sexual harassment charges and makes a fool of himself on video (repeatedly), and people quit being so excited about wearing his t-shirts. But here's something else I read this weekend that absolutely does not compute:
Add comment November 20th, 2011 Trackback Bookmark on del.icio.us