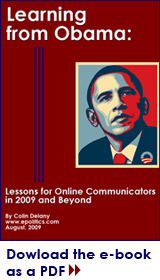 Part One of a six-part series
Without the internet, Barack Obama would still be the junior senator from Illinois. Under the rules of the broadcast era of politics, a young man with a funny name and a couple of years in the Senate might run honorably but would almost certainly lose, crushed by the ability of an experienced candidate like Hillary Clinton to raise money from big donors and lock up endorsements from elected officials and party activists.
But Barack Obama declared his candidacy in 2007, not in 1991, and his two-year campaign for the White House could rely on the internet to an unprecedented extent for its core functions. His staff would employ a combination of both new and proven online technologies to organize volunteers, to find new supporters and put them to work, to turn out voters on election day and (of course) to raise unprecedented amounts of money — all contributing to a crucial edge in the primary and general elections.
Both Obama and Republican rival John McCain relied on the net to bolster their campaigns. But Obama's online success dwarfed his opponent's, and proved key to his winning the presidency.

"Propelled by Internet, Barack Obama Wins Presidency," Sarah Lai Stirland, Wired.com, 11/4/2008
Obama's online staff and the contractors they employed designed, built, tested and steadily improved a series of systems and procedures that formed the basis of a scalable, distributed organization that by November of 2008 spanned the United States and penetrated areas in which Democrats had not competed in years. The Obama new media team tried many techniques in the process, but motivated by the need to achieve measurable political results, they focused on replicable models, practical tools and incremental improvements. In the end they were richly rewarded: their work midwifed an astounding level of citizen interest and involvement for a modern political campaign. The numbers alone are impressive:
8 comments February 23rd, 2009 Trackback Bookmark on del.icio.us